French clocks
A French '700s longcase pendulum clock movement with hour and half strike.
The weights are much larger than what is strictly required by the movement power request. The clock can run even without oil, increasing wear of gearing.
This kind of pendulum clock needs to be overhauled every four years. Unfortunately, almost everybody forgets about it and subsequent restoring work becomes very expensive.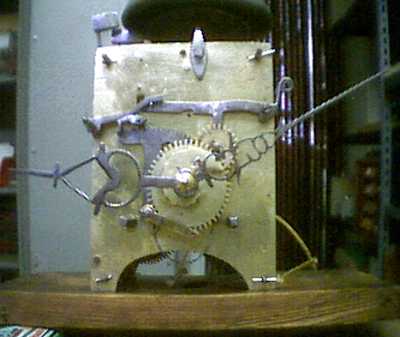 Here is a French style movement just restored. The clock can now run with great accuracy and reliability: with modern lubricants it can achieve even better performance than when it was brand new.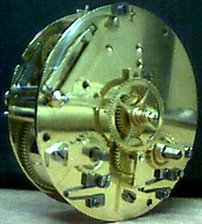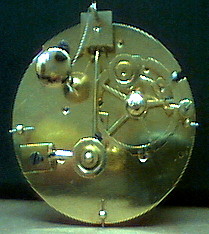 The only alteration that can be accepted is the making of damaged parts of the movement, because a running clock is more important than a replaced wheel or mainspring.
They are indeed substitutions of little importance, regarding a few parts. Making an entire movement or a great part of it would be too expensive even for a highly priced antique clock. Such a great substitution is always easily detectable.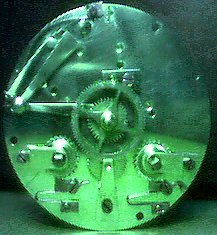 Second half of 19th Century French "Brocot" escapement pendulum clock escape wheel. This kind of wheel can be made with the Tecnoli Bergeon cutters. This tooth profile requires two cutting phases. Usually, it is possible to couple cutters to obtain tooth shape in one phase only.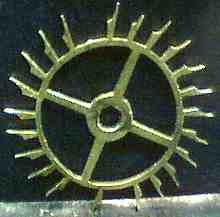 Here is the fully restored clock. New pallet stones were fitted, identical to the old ones. Steel pallets were found when the clock was brought to us for restoration. These spare are still available today: making them individually would require a very long time and the cost would be very high.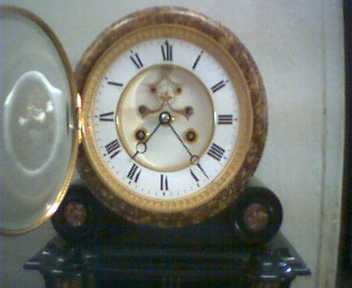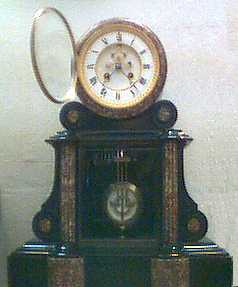 The case is made of black marble and was still in good conditions. Proper polishing of this material would require complete dismantling, with serious risk of damage to cemented parts. Usually, we try to improve the appearance with special products (after a cleaning bath) without dismantling. We give final finish with common bees wax.
The suspension spring is, quite incredibly, the original one. The name "Brocot" is from the clockmaker who invented the type of time regulating system found in this clock and used thoroughly in the "Pendules de Paris" made at the end of XIX Century.