Lange & Söhne marine chronometer
This Lange & Söhne marine chronometer is one of the most heavily damaged timekeepers we have ever seen! Although it is a very valuable piece it has been badly treated. During overhaul of the movement we had to make a new escape wheel, escape wheel arbor with pinion and a new seat for a jewel.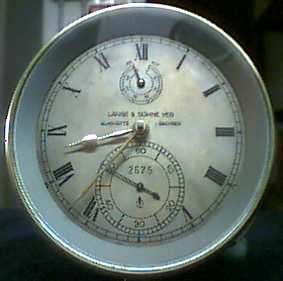 A dial close-up: light discoloration on the dial is not depending from the low quality of the picture but from the alteration of the original finish on the silvered dial.
It wasn't necessary to re-silver it, anyway. The dial was in pretty good shape considering the age of the clock (at least 40 years old).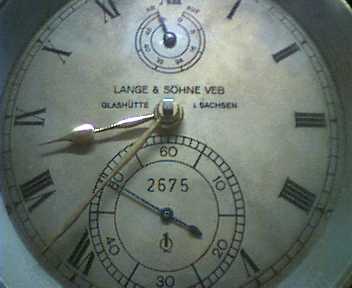 Under the dismantled dial: the extreme simplicity of the movement together with the great care used during construction are very visible. Screwed jewels, five spoke wheels and hand finish of all surfaces, bridges and screws are typical of the excellent Lange & Söhne production.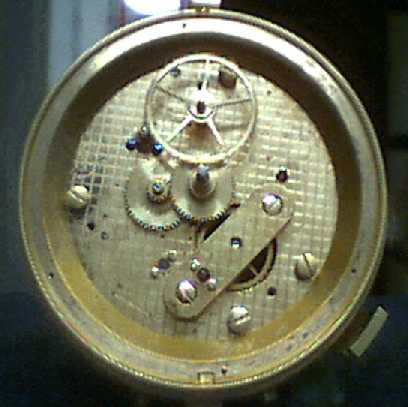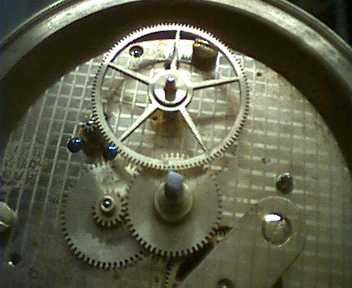 A close-up of the power reserve indication system.
A strange thing: when the spring is completely wound, the power reserve hand doesn't indicate zero hours from the last winding operation, as could be expected, but 9 hours. The clock runs for 56-9=47 hours and not for 56 as indicated on the dial. It's not a repairer's error! It's a particular characteristic of this chronometer. It would be interesting to make a research about it.
Under the light the surface finish can be admired, even if plates are still unpolished at this stage.
The back of the movement with the large balance wheel bridge in the middle.
Another particularity of the is a steel strip used to replace the fusee chain. It's an unusual but functional solution. We don't believe it has been adopted by a repairer but by the original manufacturer. We still don't know if Lange & Söhne ever adopted this arrangement and would appreciate any suggestion about it.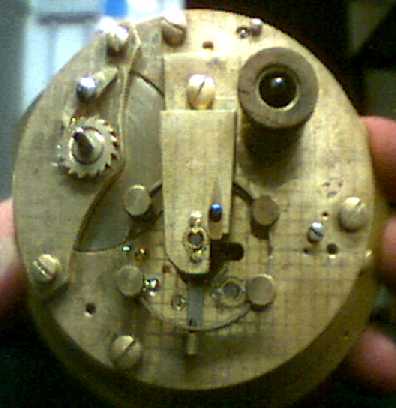 Two pictures of the great balance wheel. There are four temperature compensation weights and two weights for time regulation.