Pocket watch with independent seconds and two time trains.
Click on images to see larger pictures. The centre second's hand is started and stopped by a small pusher in the lower part of the case. It moves once per second, like in modern quartz watches. This is a primitive form of chronograph watch.
The dial is white enamel. Hands are probably the original ones. This watch was made around 1870 and is of very good quality.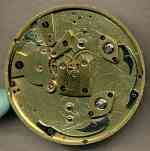 Front and back plates of the movement. It has two Maltese cross, one per barrel. They're still at their place, even if too often watchmakers tend to eliminate them!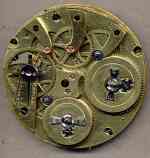 The case-back has a very fine engraving, representing piazza S. Marco in Venice. The quality of the detail is simply amazing. Enlarging the image the wonderful work of the engraver can be fully appreciated.
The most famous Le Roy firms were surely in Paris: one founded about in 1785 with the name "Le Roy" later changed in "Le Roy & Cie" by Basil Charles Le Roy in Galerie Montpensier, 13 & 15 Palais Royal; another called formerly "Leroy", later "Le Roy et Fils", in Galerie Valois, 114 & 115 Palais Royal.
They made a large amount of watches, still quite common.
Ulysse Nardin pocket minute repeater. These reparations are particularly difficult especially if in the past the movement has been improperly treated. Every spare part in such old watches must be individually made. They were often built in very small series and individually finished. This way, small differences were created among watches, so it is impossible to obtain "interchangeable" parts.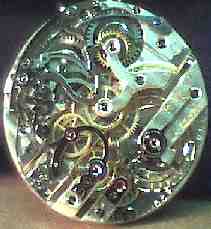 Jumping hours pocket watch. This particular movement required the remaking of many springs in the jumping mechanism, damaged during previous reparations.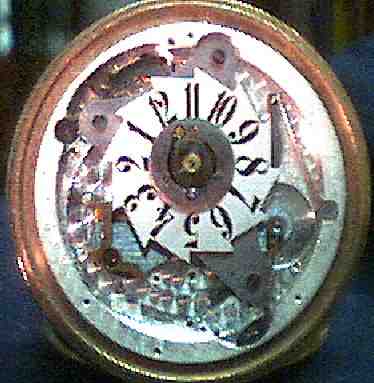 A curious movement: this Westminster chime clock plays hours at every quarter, not only once every sixty minutes. The hour mainspring barrel is extremely large: it cannot be contained in the plate profile. Strike train pivots were badly worn prior to repair because this clock plays 11,088 blows per week!
Click on image to see a larger picture.